The low-down on MY "prints."
Okay, first of all, they are "reproductions," not "prints." For my lame excuses why I keep abusing the poor ole language, see elsewhere.
My reproductions are:
Scanned by me
Proofed and corrected by me.
Printed by me, on an Epson R1800 photo-quality ink-jet printer. The inks are rated to last at least 100 years. The support is heavy-weight, archival paper.
Virtually indistinguishable from the original, except where the size has been changed.
I fall into the camp of artists who consider these to be the equivalent of giclee prints. For a discussion of this issue, see the giclee entry in the Glossary.
When you buy my reproductions, you are paying for: cost of materials, cost of labor, and a portion of my living expenses. You are NOT paying for the cachet of owning something called a "limited edition print." For a discussion of THIS issue, see the limited edition entry in the Glossary.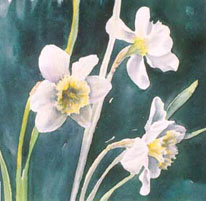 Do you know what you're buying?
Q: When is a print not a print?
A: When it's a copy!
-- and other hoary jargon meant to confuse you.
If you'd like to skip all the editorializing and jump straight to the jargon, click here.
---
Okay, so we all know what is meant by "original artwork," right? Well, so I thought until someone approached me at an art fair, and asked (rather crossly); "What's the difference between an original and a print? I always thought a print was a copy, but I see artists here selling them as if they were originals!"

This was a pretty astute observation, but in this case, no, the print in question was NOT a copy. It was, in fact, in some sense, an original.

Whaaa-???

That's right; properly used, the term "print" refers to a "hand-pulled" print; that is, an image that is created on one surface, then transferred to another, by the artist. Usually the artist will "pull" several prints, not just one. However, because they are "hand-made," each image is slightly different from the other, and is, in that sense, an original.

Those mass-produced things we typically call "prints" -- such as photocopies, posters, limited editions -- should really be called "copies" or "reproductions." Why? Because the original was produced in a one medium (such as oil paint), then "re-produced" in another, usually ink.

So why do we persist in misusing the term prints? A host of reasons, really. Ignorance is one; deliberate misdirection is another. Also, the other words available are freighted with other meanings; "copy" conjures up a dim, blurry xerox; "photo-mechanical" is too obscure; and a "poster" is a photo of Kanye West on cheap, glossy paper.

"Reproduction" is the best choice, but at 12 letters and 4.5 syllables it's a bit cumbersome. For instance, at certain resolutions it's too long to use as a heading on my web pages. And artists busy writing out price tags at an art show often resort to the much shorter "print" just to avoid hand cramp...

I can hear some people -- artists especially -- saying, "As long as the buyer likes the image, what difference does it make what it's called?" To which I reply, that depends on the buyer. Personally, I don't mind paying $50 bucks for a high quality ink jet reproduction, but if I discover later it's really just a xerox copy from Kinko's, I'm going to be a little ticked off.

So where does that leave us? CONFUSED! My best advice -- ask the artist exactly what s/he means, if it's not clear to you from the label.

To help you understand the answer you get, I've started compiling an Opinionated Glossary of terms. Look below....